GRACE MIRACLE EHIGOCHO (GME) FOUNDATION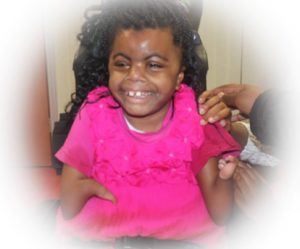 GME foundation is a not-for-profit organisation registered in Nigeria (CAC/IT/NO 138977). It was formed to propagate unconditional love to children living with disabilities in Africa, starting with our home country, Nigeria.
The foundation was set up due to our experience with Grace Miracle Ehigocho Ocheola-Oki, who was born with severe disabilities (diagnosed as Cornelia de Lange Syndrome). Grace had just one finger on each hand, was wheelchair-bound, had no speech, and was depended entirely on her family and carers for her daily care, but they loved her dearly.
Grace was called home to be with the Lord on the 5th of August 2019 after she completed her divine assignment of launching us into the ministry of using our pain to be the gain of others. She taught us to love unconditionally, which is why we share this love with other disabled children through this foundation.
The foundation aims to be a voice for children living with disabilities and provide them with a better quality of life.